A Journey to the Presidential Memorial at Mount Rushmore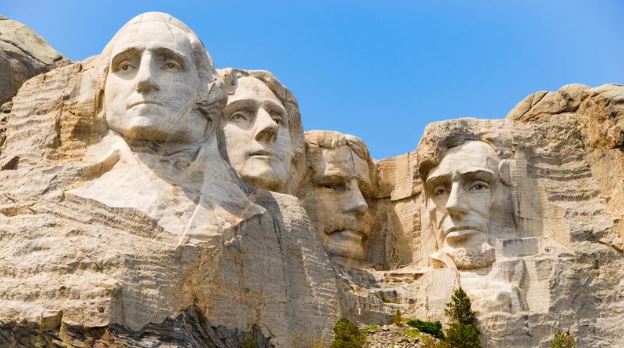 Mount Rushmore National Memorial in the state of South Dakota is a tributary to four presidents of the United States who hold special significance in the American history. The memorial comprises of giant 60 feet granite faces carved into the mountain. The work on the construction of the memorial started in the year 1927 while it was opened in 1941. Hundreds of workers and engineers worked here for 14 years using dynamite to carve the mountain. It is also one of the few massive projects of its kind where no loss of human life occurred. Today, the Mount Rushmore memorial is a major tourist attraction in the world with millions of people visiting this place annually. We were in the United States for the last few months traveling through various states, national parks, monuments, and sky rise building. We had covered most of the prominent states of the country and now we were planning to start our journey to small states. We were in the southern region so we decided to visit the State of South Dakota. When we came to the city of Keystone, we had the opportunity to visit the Mount Rushmore National Memorial since it is only 3 miles from the city.
Visiting the Mount Rushmore Memorial
The memorial is opened all days of the week and since it is at a driving distance from Keystone, we booked a hotel in the city and drove to the memorial in the morning. It is a majestic structure with the faces of George Washington, Abraham Lincoln, Theodore Roosevelt and Thomas Jefferson carved in a sophisticated manner. The memorial faces the sun and the bright faces are visible from quite a distance. The fauna of this place is also refreshing as there are numerous species of birds and animals. Opposite to the Mount Rushmore is the black hills, which are a delight to look at. We spent a few hours here exploring the design and sculpture of the memorial before going inside to visit the Sculptor's studio and the museum.
Sculptor's Studio and Lincoln Borglum Museum
This is an amazing place where we got the opportunity to learn a lot about the history of this place. In the Sculptor's Studio, there is the original design of the faces carved by Gutzon Borglum. This design is small but the perfection of these statues is greater than the large-sized carvings. We also visited the Lincoln Borglum Museum where the whole history of this memorial is captured and displayed in pictures. This tour proved to be an
educational experience for us and we spent a few hours before traveling back to the city.