Why Visit Auckland, New Zealand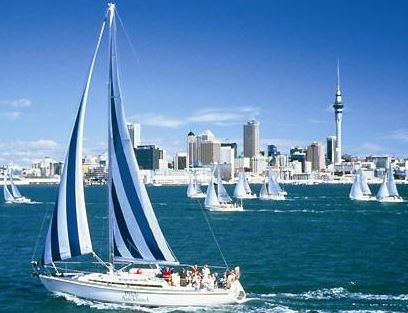 Sandwiched between two harbours and sitting atop a volcanic field, Auckland is best seen from different angles: on the water as you ferry to Waiheke Island for wine tastings, or from atop One Tree Hill Domain or Maungakiekie, where an obelisk at its summit honours the Maori.
Here are the best places you should visit in Auckland, New Zealand.
The Sky Tower:
Along with being an iconic feature of Auckland's skyline, the Sky Tower is the tallest of its kind in the Southern Hemisphere. Fine diners, adventurous bungy jumpers and travellers wanting to catch some of the best panoramas of the city are among those attracted to this stunning architectural landmark.
Waitemata Harbour:
The wide sweep of Waitemata Harbour slices Auckland in two and is the city's most prominent natural feature. It was because of this easily navigable waterway that Auckland became New Zealand's capital in 1840. The country's capital is now Wellington, though Auckland remains New Zealand's economic powerhouse. The central harbour is dominated by Auckland Harbour Bridge. This was completed in 1959 and is more than one kilometre long and some 43 meters high. The bridge connects downtown Auckland to the northern districts and the sandy beaches of the bays further north. Quay Street runs parallel to the harbour in the central district. This gives access to Princes Wharf and the ferry terminals to the Hauraki Gulf islands.

One Tree Hill:
One Tree Hill is a 182-metre (597-foot) volcano which serves as an important memorial place for Māori and other New Zealanders. Maungakiekie, or the 'mountain of the kiekie vine', was home to the largest indigenous pā (defensive settlement site) pre-European colonisation. A 30-metre (100-foot) tall stone obelisk was also erected on top of the summit to mark Auckland's centenary commemorations in 1940.
Voyager New Zealand Maritime Museum:

New Zealand has always been a nation deeply connected with the sea. This well-curated Maritime Museum explores this connection, offering a comprehensive survey of the country's history of seafaring. Exhibits traverse the history of New Zealand. From the arrival of the first Polynesians and include Maori canoes and outrigger boats, whaling equipment, and old instruments and implements. One gallery is devoted to New Zealand's modern yachting success. This gallery includes the yacht in which the New Zealand crew, skippered by Sir Peter Blake, won the America's Cup in 1995.
Piha Beach:
Located just west of Auckland, the black-sand Piha Beach is famous for its strong surf conditions and breathtakingly rugged scenery. Landscape photographers are particularly drawn to the beach's Lion Rock and its surrounding Maori carvings. Film buffs will also know the picturesque beach for its cameo in movies like the 1993 feature drama The Piano.
Other cool travel destinations include South Africa and Italy