Québec City, Canada Travel Guide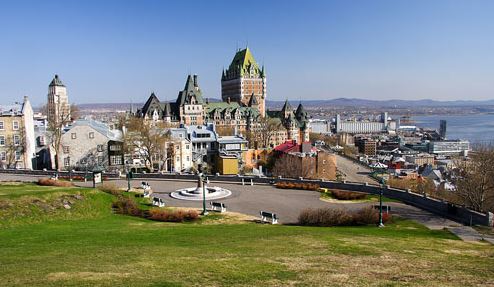 Hilltop Québec City is a town for all seasons. Its 17th-century, castles-and-cathedrals charm only enhanced by snow (and where else can you say that in Canada?!). Explore UNESCO World Heritage–listed Old Québec, brush up on your military history at the citadelatop Cap Diamant, and head to the Quartier Petit-Champlain for pedestrian-only streets and artisan boutiques. Reserve a room at the historic Fairmont Le Château Frontenac. Then dine in the hotel at the property's 1608 Wine and Cheese Bar, which specializes in Quebec cheeses.
Our friends at Always Preferred Restoration share their travel experiences to Quebec City. Check out their janitorial services here: https://www.wedefineclean.net/janitorial-services.html
Here are their top suggested places you should visit there.
1. Old Port Farmer's Market:
This is open all year but best enjoyed during the warmer months. Expect to find a nice selection of ice wines, local beers, ice cider and cheese, fruits and veggies.
2. National Park:
There are fewer more significant places in Canada than the Plains of Abraham,also called National Battlefield Park. On this land, which belonged to farmer Abraham Martin, the French and British Army fought for the control of Canada in September 1759. The commanders of the two rival armies both perished. They are commemorated on a shared monument but at the end of the day, the British took the day and the French colony.
The battle lasted just 40 minutes but changed the fate of the country. The fortifications and the Martello towers still visible today recall the military heritage of the Plains. Today, this huge urban park is mostly used for outdoor activities and festivals. The Musée duQuébec, set on its grounds, has one of the most impressive art collections in Canada.
3. The Montmorency Falls:
These are a mere ten-minute drive from Quebec City. The falls are taller than those of Niagara but not as wide. The Plains of Abraham, which are walking distance from Old Quebec, are ideal year-round. For summer lounging or winter sports like cross-country ski and snowshoeing.
4. Neighborhood to Explore:
Saint-Roch is a hip and fun neighborhood where students, young professionals,and creatives alike chat over a glass of wine or a locally brewed beer during 5à 7, the French-Canadian version of happy hour;
Bookstores, theaters,boutiques, and excellent restaurants and cafes, including le Clocher Penché andla Buvette Le Voisin, all line Saint-Joseph Street. By foot, you can also venture to neighboring Limoilou. There, Third Avenue is the place to go out at night.
5. Old Quebec:
You'll be hard-pressed to believe you are in North America as you wander the charming cobble-stoned streets lined with cafes, patisseries and artisan shops. Here the streets are safe to wander at all hours and everything is within walking distance. Rue du Petit Champlain boasts a lengthy block of specialty shops. They are brimming with one-of-a-kind things you don't need but must have. Like scarves,woodwork, pottery, artwork, clothes and more.
We popped into several shops where the artisans were on site, hand-painting silk scarves or woodworking. One invited us into the studio to meet the other artists. Pride of place is palpable here—in a very winning way—it makes you want to be a Quebecer yourself.
See our other travel destination articles: New Zealand, South Africa, Italy, and eating in foreign countries