The Top 3 Things to Do in Windhoek, Namibia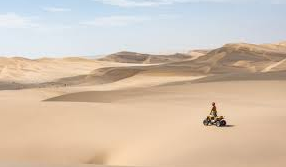 If you're planning to visit Namibia, most probably your vacation will begin and end in the capital of Windhoek which is the home of Hosea Kutako International Airport. For most of the tourists, Windhoek is just a point of entry or the place where you are going to meet up with your tour guide or pick up your rental car. However, it's worth planning an extra night or two in Windhoek, Namibia. It's the home to some great sights in its own right.
Here are three of the top things to do in Windhoek; from historical attractions to unique natural areas.

1. Namibia Craft Center:
It is located near the center of town in the Old Breweries Complex. The Namibia Craft Center must be your one-stop shop for great souvenirs. The prices are kind of higher than they would be at a roadside stall. However, it's not really a great place to practice your haggling skills. The covered market is safe and clean though. There are about 40 independent shops that provide about 4,000 jobs for artists and artisans living in the country's most remote places.

2. Katutura Township:
It is located to the north of Windhoek city center. Katutura township's name means "the place where people do not want to live" in native Herero. The district's history is not a very happy one. In the late 1950s, black people living in the suburb, which is now known as Hochland Park, were relocated to Katutura under apartheid law forcibly. Here, they were forced to pay high rent for the worst homes ever and to walk long distances to inner-city jobs. About 60% of Windhoek's population lives in Katutura nowadays.

3. Independence Memorial Museum:
You will be able to learn about the end of apartheid at the Independence Memorial Museum. There is an impressive range of paintings, artifacts, and informative displays telling the story of resistance to the colonial regime and the struggle for racial freedom.
There are two great statues in front of the museum; the first President of Namibia, Sam Nujoma and the Genocide Memorial representing the atrocities carried out against native Namibians by German troops at the beginning of the last century.
The museum entry is for free and it is open seven days a week. Also, visit the next-door National Museum of Namibia that includes great displays about Namibia's San rock paintings. You can know more about things to do in Cologne Germany here.